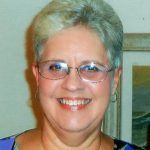 Have you ever had one of those experiences where someone you may not routinely have contact with kind of just disappears and it takes you a while to realize "Hey, I haven't seen so and so for quite a while; I wonder what has happened to them?"  Unfortunately I have had this happen to me in the past and it seems like when I do finally see the "missing person" I inevitably find out that they or a family member have been sick or that they have been experiencing personal or family problems.  When I find this out I feel really guilty and I could absolutely kick myself for not following up sooner.
On this note, I am sure that a lot of you have been wondering why the NTNL Women's web site (https://ntnllutheranwomen.com) and the Tapestry newsletter suddenly disappeared. Well, to make a long story short it is called the sudden and unexpected resignation of the people who were handling these duties along with some lack of communication thrown in. In addition, currently, none of the Board Members has the knowledge or expertise act as a Web Master or Editor for the Tapestry.
To make things even worse, we temporarily lost ownership of our web site domain name and had to go through a waiting period before we could get it back. We have now gotten our web site domain name back but our web site has to be completely rebuilt from scratch. Right now our Secretary, Leslie Jenkins, has been working with her daughter, Sarah (our former Social Media Coordinator who had to step down due to health reasons), on rebuilding the web site. Currently the home page of our web site has been restored and the Contact Us button on the Home page is working. They are still working on rebuilding the rest of the web site, which will take a while, but at least now if any of you need to contact the Board you have a way to get in touch with us.
I want to extend a HUGE Thank You to Leslie and Sarah for the work they have done getting us back up and running in the Virtual World. However, we still need more help. If you or if you know someone who would like to spread their wings the Board is looking for 1-2 women who are willing to be our Web Master and/or Tapestry Editor. If anyone is interested please use the newly available contact button on our web page and let us know.
Now, let me take a moment to introduce myself. My name is Pam Nye and I am a member of Shepherd King Lutheran Church in Lubbock. I have been active in the Women of the ELCA since the late 90's and was elected as the President of your NTNL Synodical Women's Organization Board in October 2018. Some of you may know me and some of you may not. Whatever the situation I look forward to getting to know and working with each and every one of you over the next two years. Currently I am still getting my feet wet and am learning what it takes to be President of this great organization. Therefore, I am asking for your prayers (as I will be praying for all of you as well) as we all work together to make the NTNL Synodical Women's Organization one of the premier Synodical Women's organizations in the United States.
God's blessings on each and every one of you!!!
Pam Nye